---
Jumbo Financing
"Understanding your financial needs and goals is important to us, and we are committed to securing financing that meets your needs."
Jumbo Loans Are Taking Off Again
Jumbo loans are those that are over the conforming loan limit offered by Fannie Mae and Freddie Mac, currently $417,000 as of 1-1-2015. Jumbo loans have typically required a larger down payment, higher credit scores and enhanced qualification requirements. In addition, rates on jumbo loans tend to be higher than conforming loans.
Clifton Mortgage Services, LLC offers a stong portfolio of Jumbo Mortgage financing programs. Featuring multiple programs designed to meet the needs of the Jumbo Mortgage home owner, our programs include 95% Loan to Value both Fixed and ARM with no mortgage insurance, loan amounts up to $10m, Second/Vacation Home programs, Investment Property programs, Ski Condo programs and credit score options begining at 660. Below we are proud to present a snapshot of some of our more popular and cutting edge jumbo programs.
Program Details:
We offer Jumbo up to 95% Loan to Value on owner occupied homes!
Second Homes/Vacation Homes to 80% LTV
Investment Properties to 75% LTV
Single Family, Town Homes, Condos, Condotels and Ski Condos Allowed
Fixed Rate (30 year and 15 year) and ARMS (3/1, 5/1, 5/5, 7/1 and 10/1) available
Interest Only options available for both Fixed and ARM programs
Minimum Middle Credit Score of 660
Debt to Income up to 43% Allowed
Escrows (Taxes and Insurance) Required
Program Guidelines:
Jumbo program guidelines and requirements are rapidly changing, for more information, call us at our offices at 888-681-0777 or email us CLICK HERE
Documentation Requirements:
All programs are full documentation
2 years personal and business returns
2 years W-2's
2 current pay stubs
2 months asset statements
Download a full Loan Documentation Checklist, Click Here
Current Standard Jumbo Lending Matrix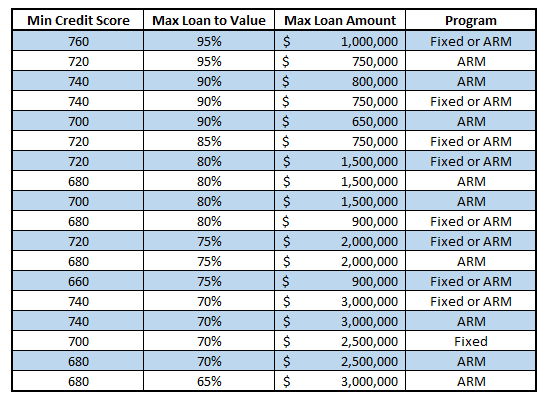 Effective as of 11-10-2015. Matrix based on purchase, single family home, owner occupied. All programs subject to change without notice. Please contact us for eligibility requirements and a custom rate quote.